Results & Performance Data
At the end of year 6, pupils take SATs covering English and Mathematics, which are externally marked and published in the DfE's performance tables, which you can access here.
These tests will help your child's high school to understand his or her education needs and ensure that they continue to get the best out of their education beyond year 6.
For more information on our school results please visit the DfE's Performance Tables website at:
https://www.gov.uk/school-performance-tables
2023 PERFORMANCE DATA
2023 Key Stage 2 Performance

2023 Key Stage One Performance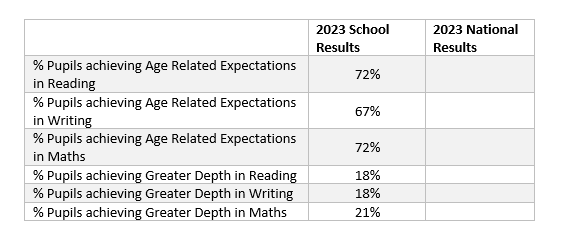 2022 Performance Data
2022 Key Stage 2 Performance
2022 Key Stage 1 Performance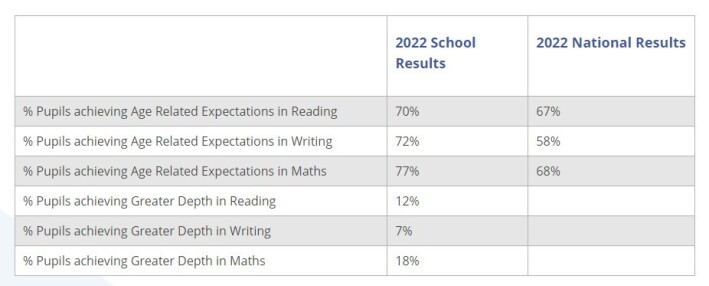 Key Stage 2 Results 2019
Due to the pandemic, there was no statutory assessment for 2020 and 2021. The government will not publish KS2 school level data for the 2021 to 2022 academic year. They have archived data from the 2018 to 2019 academic year because they recognise that the data from that year may no longer reflect current performance. Below is a table showing the results of previous Year 6 children who completed the tests in May 2019.
All Key Stage 2 Pupils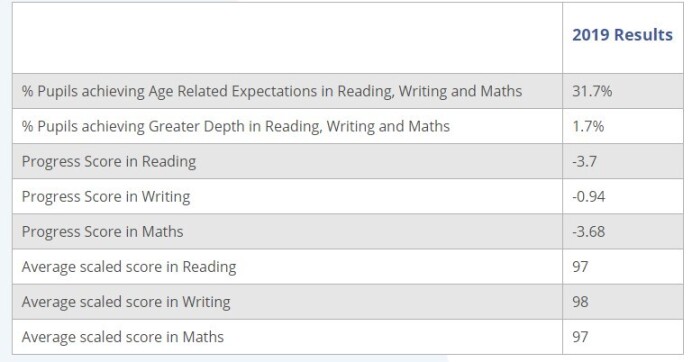 KS2 Pupil Premium Pupils